Smoothie Sampler and Saturday Breakfast
7 Apr
I decided I wanted to try some smoothie recipes for Saturday morning breakfast.
I already had Chili Cheese Puff in the toaster oven…
…and figured I needed something elegant to go with it. I also had a lot of fruit, and figured that it would be a good way to use up the fruit before it all went bad on me. (I don't like processing moldy fruit. 🙁 )
So…I dug out the smoothie book that I had purchased for a school project several years back. With a few slight modifications, here are my creations. Left to right, we had Cherry Charmer, Pineapple Pleasure and Strawberry Melon Surprise.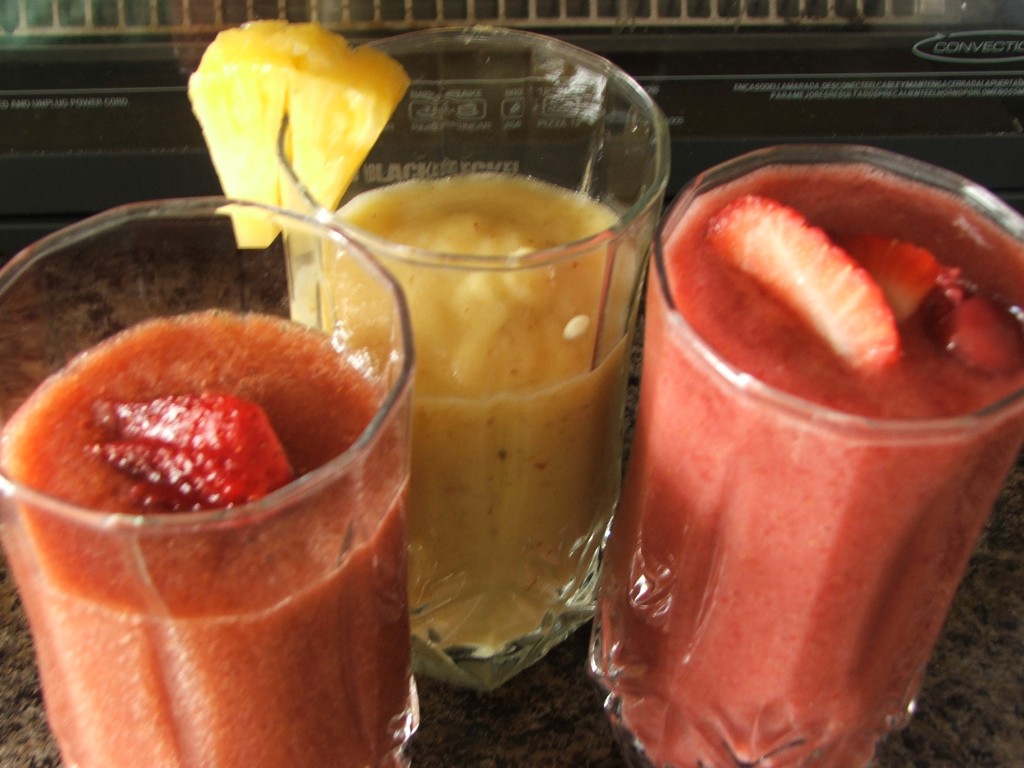 Here are the delightful pictures plus recipes.
(I didn't have fresh cherries, so I used my leftover maraschino cherries plus a few other cherries from a jar I had bought from Trader Joes that had fewer and better looking ingredients than the maraschino cherries.)
~~~~~
(I left out the mint on this as I had no fresh mint leaves, but I'm sure it would have added a whole new dimension of depth to the flavor. Mint is very refreshing.)
~~~~~
(I overdid the vanilla on this one. Be careful to follow the recipe! 😀 *sheepish* )
Enjoy! 🙂
~~~~~
OH…side note: When testing more than one or two recipes, make sure you have more than 2 people to consume them! We had more smoothie than we knew what to do with! Also, they could have used a little sweetener in my opinion.