Finished Quilt and the AFHE Homeschool Convention
22 Jul
One more project to cross off the long term project list. 🙂
Hand stitched butterflies…
As well as pre-embroidered butterflies…
With Matching pillows and shams. 🙂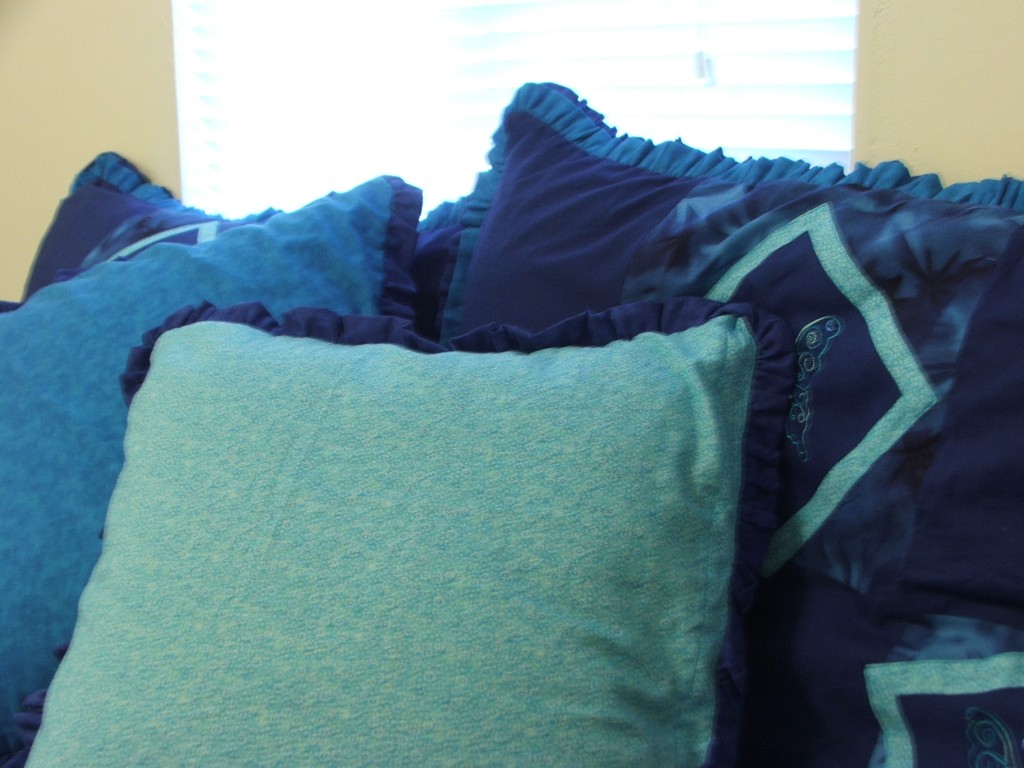 In other news…
The AFHE (Arizona Families for Home Education) convention happened this weekend. It was huge. They had Ken Ham this year as the keynote speaker for the first morning session, and he was quite good. He is the director for the only Creation Museum in the world, located in Ohio. He had some good things to say. I had some of the sessions lined up, but…some of the speakers were better than I pictured, and others I was disenchanted with. Angela Baggett was able to come for the first day before flying out to Canada that evening, so she and I ended up picking all of the same sessions, but ended up walking the curriculum hall near the end. She thoroughly enjoyed herself, and as a Canadian Educator, she was unaware of all of the curriculums available to homeschoolers. She did say that she was unhappy with the American school system, and any future kids would be homeschooled. She will be very good at it.
Attendance was up from last year, so…guessing somewhere between 4,000-5,000 people. We hung out with the Couba's, Semrocks, Wallaces, Martins, Roberts, and a few other people the first night. We went to "My Big Fat Greek Restaurant", and got the flaming cheese. As Lydia was hungry, I had to excuse myself into the restroom to try to nurse her, so I missed the flaming cheese at our table, but apparently we set a trend that night as there were quite a few other "flare ups", so I felt satisfied to have gotten my show.
The next day, Jordan and I spent a bit of time together in some of the sessions (trading off caring for Lydia), and ended up in the Curriculum hall together. We got the 1828 edition of Noah Webster's dictionary from Vision Forum. Jordan has wanted that for a while, so I felt satisfied walking away with that. It is amazing the difference between the dictionary of today, and Noah Webster's definitions. As a Christian, it would make a wonderful study guide, and as a Christian parent (and homeschooler), consider it as a teaching tool. It has scripture references, and meanings that the world has long since has tried to ignore in order to do what they have wanted to do. If the dictionary condemns you, then change the dictionary. *sigh* What a degradation of our society.
That night after the convention ended, we went with the Wallaces and three ladies from Canada (all the way from Canada to Arizona just for the convention!) to a place called Thai Elephant. It was quite good, but I filled up on my dish rather fast. Jordan and I ended up with all of the leftovers. :-p good times!