Mexican Dinner
5 May
So I am WAY behind in my blogging. In fact, I got so behind that when I went to write this blog, I had to break it into two blogs because it would have been too much for pictures. The blog from the 20th is part of the original blog for today. Part of the reason is because Jordan has been taking the computer with him to work, so I do not have the computer available to me (usually when I want to sit down and blog. :p) I am regretting not having gotten that Netbook that I was looking at before Jordan and I got engaged. It would have come in super handy at this point in time!
So what have I been up to?
(Just got briefly distracted, as I have just noticed that my washing machine has been unplugged by Dearest for a special project. Mental note: Remind him to plug it back in.)
Ah yes…
Chili's Rellenos. That has been one of my more recent projects as well as Chimichangas. I think the Chimi's turned out better than the Rellenos.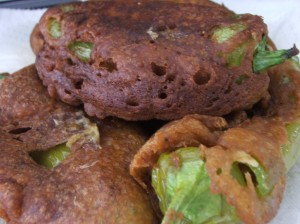 Deep fry! 😀
When I made the Rellanos, I also fried up some purple onion rings, as I still had batter left and Jordan loves fried onion rings. He was suprised, and I was happy because I love suprising him with things. 🙂 Then the next day (as I still had oil) I made Chimichangas, as I had tortilla dough to use up, as well as some Elk meat that I had pulled from the freezer that needed to be used. I didn't make a traditional Chimichanga, and was highly complimented when, a few days later, Jordan had a restaurant Chimichanga and then afterwards commented that he liked mine better! I sauteed the meat with onions (and spices), and then after rolling out the tortilla, stuffed it with meat, brown rice, part of the relleno's mixture (cheddar cheese with tomatoes, jalapenos, onion, salt and chili powder), and some refried beans.) I was very happy with how it turned out, and I served it with homemade refried beans (easier than I thought, thanks to Chloe!), Mexican Rice (which turned out crunchy…AGAIN! Augh!) and some Deep fried Puffy Mexican dessert Thingies with Honey and Cinnamon…the name escapes me just now. I am just disappointed that we had to rush through the meal as it would have been very nice to just sit down and enjoy the fruits of my labor. We just ate the last Chimi's last night with the last of the refried beans, but I still have a bit of rice to go. Last night, I took and added more water as I heated the rice on the stove…and you'll never believe what happened. :p It went from crunchy…to NORMAL! :p Guess who'll be adding more water to her rice next time. :p
So that was all last week. Our girls group didn't get together last week as our schedules all clashed…(or rather, our husband's schedules all clashed. :p Who wants to get together with other people when our husbands are home? 😀 Speaking as a newly married, of course. :P) This week is being skipped to, as we are all on the busy side, especially with the meetings in Prescott this weekend, which when trying to cram everything in makes for a very hectic week. I think we are going to try to get together sometime at the beginning of the next week to do more sewing. I have made so much progress on my project that I am just tickled. Now I just have to get my hair brushed and the dishes done so that I feel good about sitting down and working on it. :p I am very tickled about Monday…I got the whole house cleaned before Jordan got home, and he was very pleased. I even got the floor mopped, which generally it is a blessing and miracle just to have the floor vacuumed!
Jordan and Lydia were playing Airplane last saturday, and I had to get a few pictures. It was really cute!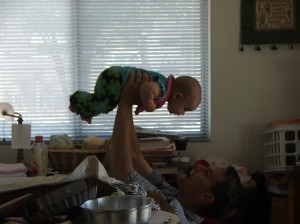 Jordan remarked about not needing to work out because of Lydia. :p I love to see Jordan playing with Lydia (especially when I have things that DESPERATELY need to get done. :p)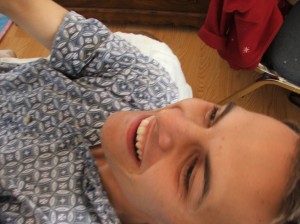 He's such a good daddy, just like I knew he'd be. 🙂
Side note: Lydia has figured out where her thumb is. 😀 So last wednesday (the 18th), someone remarked that she was sucking her thumb. Sure enough, she was! 😀 Too cute! 😀 So today, she took a catnap on her playmat, and we noticed that she was sucking her thumb, so we snuck a few pictures.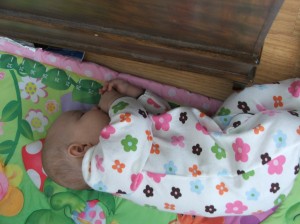 We love you Lydia! 🙂
Okay, on to bigger things Dishes, then sewing while the princess sleeps. 😀 Until next time, hopefully next week where I can tell you about the weekend, and perhaps our sewing projects. We have a new addition to our group…Naomi King! Angela and I are quite tickled to have a new addition, as well as Chloe, Grace, Hadassah, or Lilliana, or whomever else has random projects to do.
Until Next time!
Martha