Hunting Camp – Day 2
12 Oct
All through the night, I was very aware of the rain that was pouring down the side of the tent right above my head, along with the blowing wind, and early that morning (in the rain), Jordan crawled out of bed to go meet his hunting partners. I snuggled further under the covers, thankful that currently I was warm and dry, but I did have my doubts as to how long being dry would last.
I shouldn't have wondered too much, as when I eventually got up, I stepped in a puddle of water.
Very.
Cold.
Water.
While Listening to murmurings of the conversation of Jeremy and Angela Baggett (our neighbors who rolled in after us the night before), and listening to their laughter as they discovered the outside world, I started cleaning the puddle of water, which was partially under the air mattress. I guess not all of the tent is water proof.
Good to know.
Fortunately Jordan  had suggested bringing bath towels just in case, so I used one to sop up the water.
Angela was calling to me by this point, asking me if I was up, and when I was going to come out to see the snow!
SNOW?! Really?
No wonder why I was so cold! :O
She and Jeremy started getting a small camp fire built, and I struggled into my clothes (all the while needing to use the bathroom, so that helped motivate) and helped Lydia get ready to go outside.
When I arrived, the campfire needed a little help, as the wood was wet.
The snow was starting to melt a little quickly, so I decided to take pictures of the piles that was there. It was probably more like sleet, but it was still cold enough to stay on the ground for a few hours!
After using the bathroom, I decided to help start making breakfast. Angela and Jeremy had brought a folding table AND a tent for the kitchen, so the night before we had set up all the kitchen stuff under the tent.
That was so nice!
Meanwhile, Lydia was hungry, and I had made some muffins a couple days before, so I passed Lydia a muffin to munch on while we worked on breakfast. She had just sneezed when this picture was taken.
Here is Angela, camp apron and all!
We decided to rig up a canvas as walls to help keep the water off and the wind down.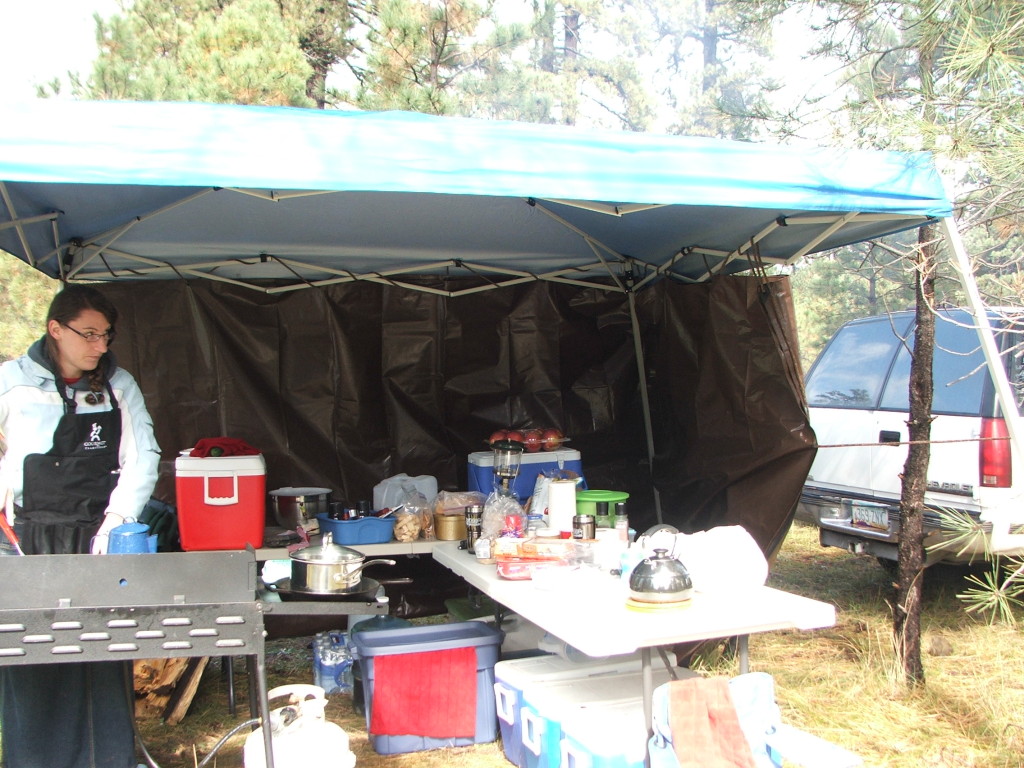 Cooking eggs for breakfast. (I think we had Egg McMuffins for breakfast).
A fruit plate that I set up later for Jordan. Okay…well, I had some too, but mostly it was for Jordan, as he LOVES fruit and whipped cream!
Oh yes, and for those of you curious enough, this was the camp bathroom (behind the tree) with an extra toilet seat…maybe just in case the bathroom is full? LOL! 😀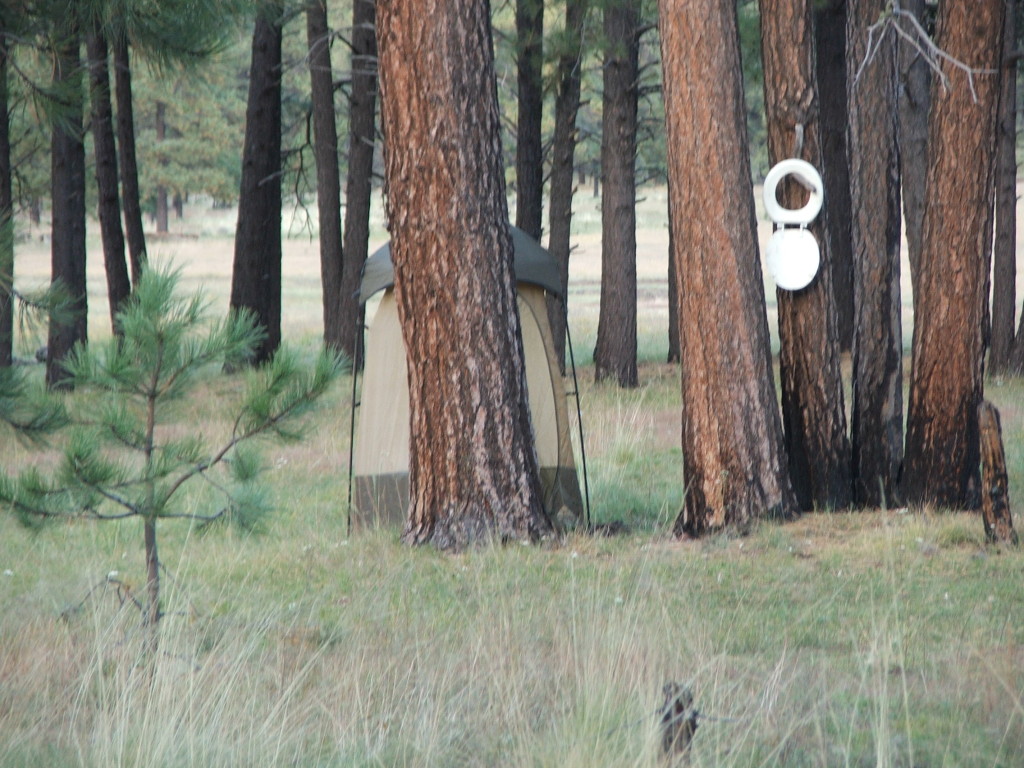 Jordan came in later that morning, around the time we were eating breakfast, with the news that Serenity (his cousin) had gotten her elk, but he had not seen anything to shoot at just yet. Knowing we only had a few days in which to fill the tag, it made me a little nervous, but I kept praying that Jordan would get his elk, and soon!